---
PET POLICY
---
A. APPROVAL - No pets will be allowed without prior approval from Management, including replacements for deceased pets, as management retains the right to refuse new animals.
B. BASIC GUIDELINES -
A maximum of 2 pets and only the following types will be allowed:
DOGS
Maximum Number: 2
Must be spayed or neutered
Must have Distemper & Rabies Shots
Must be licensed
CATS
Maximum Number: 2
Must be spayed or neutered
Must have Distemper & Rabies Shots
BIRDS
Maximum Number: 2
Wings must be clipped
C. RESTRICTED DOG BREEDS - The following dog breeds, and breed mixes, are restricted, and management may choose not to accept any pet, even if they are not listed below.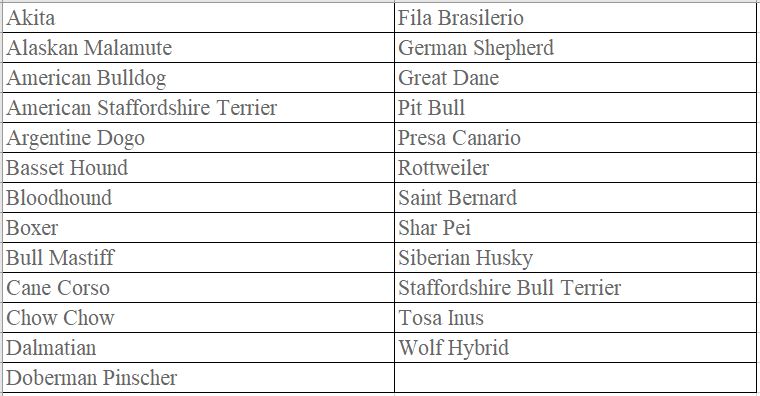 D. PET DEPOSIT - A pet deposit of $400 per pet will be required. However, the Resident's liability for damage caused by the pet is not limited to the amount of the deposit and the Resident will, however, be required to reimburse the owner for damages that exceed the deposit.
E. PET RENT - A rent of $40 per pet/month will be required for all pets. This rent is in addition to the apartment rent.
F. PET DOCUMENTATION - You will be asked to provide a current picture of your pet(s), pet license(s), current vaccination record(s) (including distemper and rabies shots) and proof your pet(s) has been spayed or neutered. For more information on how to obtain a pet license, please
click here
.
Testimonials
Hey friends. We just relocated from Texas to Culver City. I'm not sure if this is the right place to do so but I just wanted to compliment Luz. Moving to LA was not easy - it really is a rent race! Luz made the entire experience simple and easy for us. No question went unanswered. We are so happy to have her as our property manager, neighbor and friend. Just wanted you all to know what a true gem of a person you have representing Jones and Jones. Thank you and have a wonderful day.

- Kristin H.